Our Expertise I Anodized Aluminum I Painted Aluminum I Stainless Steel I Proven Solutions I Client Testimonials

Case Study 25 - Stained, Blemished & Scarred Aluminum Construction Cleaning, Aluminum Rust Removal
Condition:
The interior aluminum window frames and aluminum mullions on this new construction project were damaged, marred, blemished and stained during construction. Iron oxide metal shavings and grinding dust had covered all of the window frames. The metal shavings impregnated the aluminum surface and started rusting on the aluminum finishes. The rust within the aluminum could not be removed with traditional aluminum construction cleaning.


The Solution:
The General Contractor retained us as an expert to clean the rust stained, rust marked and rust damaged window frames. We had to return the aluminum clad window mullions to the original condition without damaging the anodic layer protecting the aluminum substrate. We fixed the problem with our aluminum construction cleaning and aluminum rust removal system. The aluminum rust removal program gets the rust off the aluminum surface and leaves the aluminum window frames clean, repaired and free of damage.
Contact us today at
610.442.2131
for service nationwide.
>>
More
Aluminum Construction Cleaning, Refinishing & Restoration Case Studies
here.
<<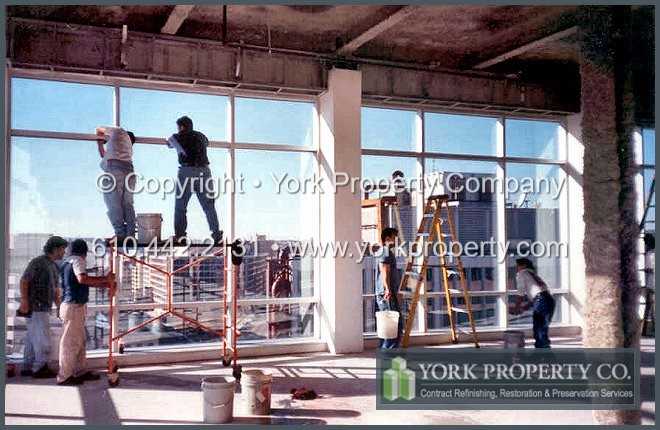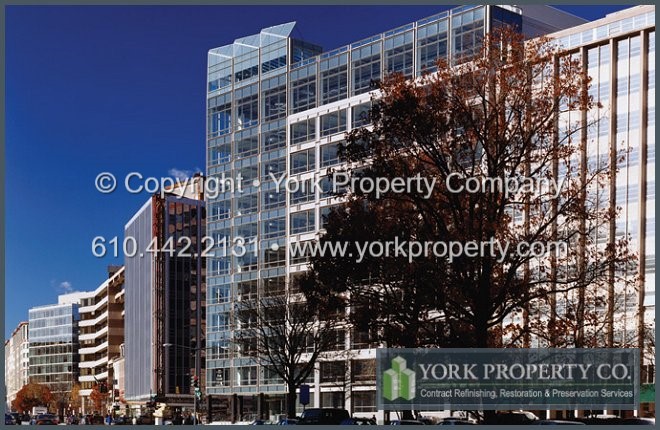 >>
View the York Property Company
Before & After Photo Gallery
here.
<<
York Property Company

provides high quality architectural metal cleaning, refinishing, restoration & maintenance. Our highly trained company technician's clean, repair, refinish & restore anodized aluminum, painted aluminum & stainless steel architectural metal surface finishes on-site.

With every restoration project we analyze the needs of our customers & develop a comprehensive maintenance program. This custom maintenance program ensures our clients architectural metal finishes remain looking their best for years to come.

Contact us today at
610.442.2131
to discuss your rust stained aluminum cleaning or construction damaged & scratched aluminum refinishing requirement.


Home Page I Our Expertise I Anodized Aluminum I Painted Aluminum I Stainless Steel
Proven Solutions I Client Case Studies I Client Testimonials I Contact York Property Co.


York Property Company Inc.
© 2009 I Precision Restoration at the Right Price.