Our Expertise I Anodized Aluminum I Painted Aluminum I Stainless Steel I Proven Solutions I Client Testimonials

Case Study 2 - Restoring Oxidized, Stained & Faded Anodized Aluminum Window Frames & Siding Panels
Condition:
The clear anodized aluminum building facade panels, anodized aluminum mullions, anodized aluminum storefront window frames and anodized metal extrusions on this commercial building were dirty, oxidized and stained. The anodized color and sheen had faded. The anodized aluminum cladding panels were contaminated with mold, mildew, mineral and calcium deposits. Apple Computer Inc. wanted a mold and mildew stain removal program to repair, restore and refinish the anodized metal surface staining and damage to the anodized aluminum building facade panels.


York Property Company Solution:
The dull, bleached and damaged exterior anodized aluminum panels and anodized aluminum window frames on this building were cleaned, repaired and restored with our exterior anodized aluminum refinishing system. The anodized aluminum was restoration cleaned removing the oxidation, mold and mildew stains, and the calcium and mineral deposits. The anodized aluminum metal cladding and anodized aluminum metal storefront window frames were coated with our spray applied clear lacquer protective coating to protect the anodized aluminum metal finish from further damage, corrosion and weathering.
Contact us today at
888.351.3682
for nationwide service in the United States & Canada.
>>
More
Anodized Aluminum Cleaning, Refinishing & Restoration Case Studies
here.
<<

"I just want to write you a short note to congratulate you on a job well done! Your hard work has certainly paid off as the anodized aluminum exterior of our Apple Canada head office has never looked better. Our employees have been commenting on the fact that we have to supply them with sunglasses to cut down the glare coming off our shiny anodized aluminum building -- this is NOT an exaggeration!"

"I only wish all our vendors / suppliers were as good and true to what they claim they can accomplish. I won't hesitate to call

York Property Company

for future anodized aluminum maintenance and restoration projects."


Facilities Manager, Apple Canada, Inc.
>>
More York Property Company
Client Testimonials
here.
<<
Original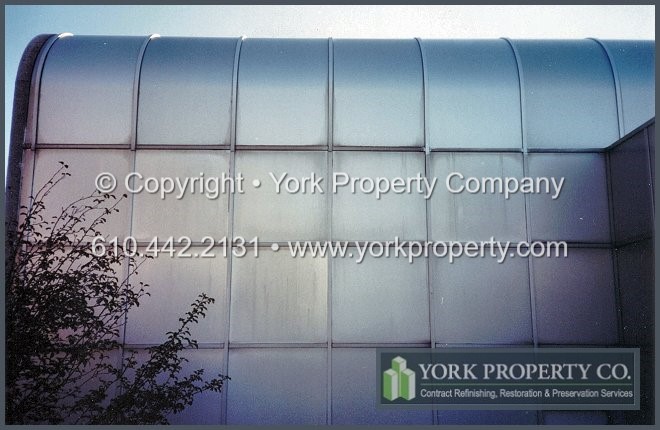 Restored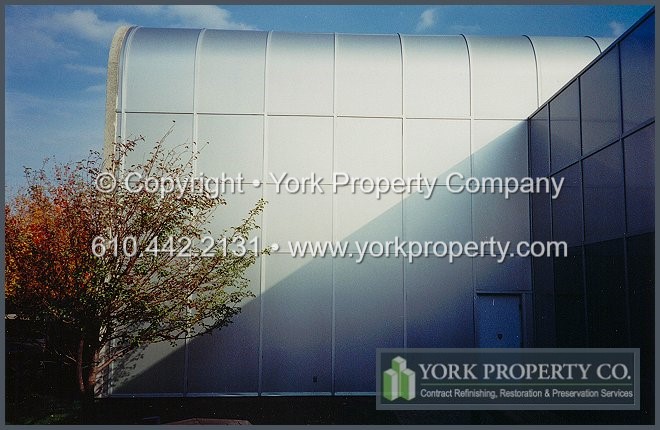 Original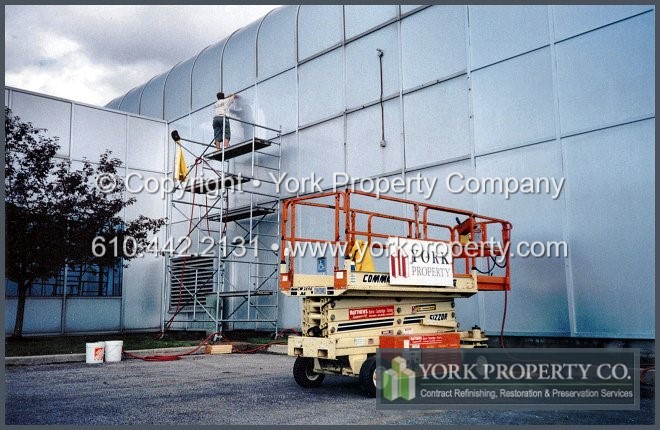 Restored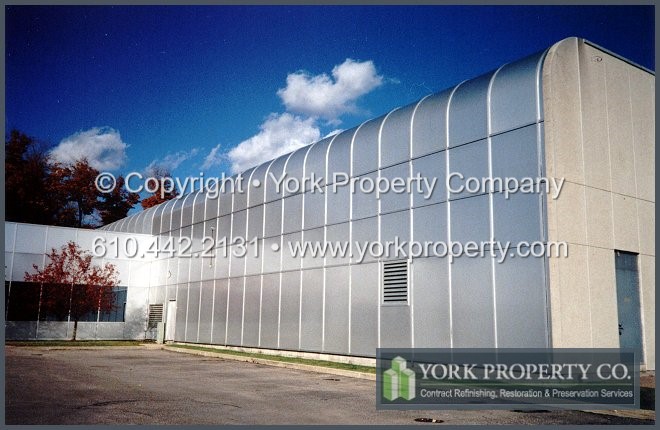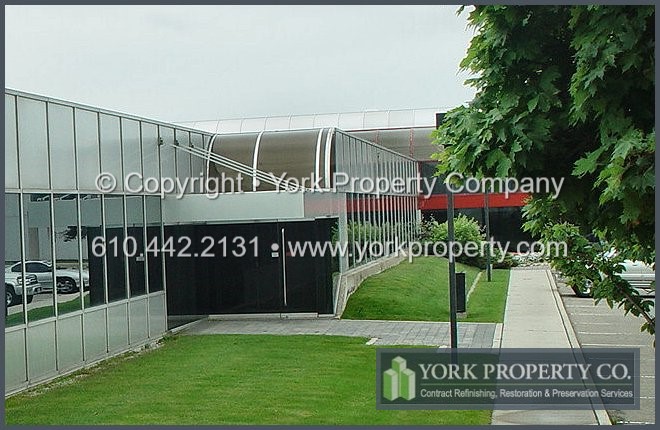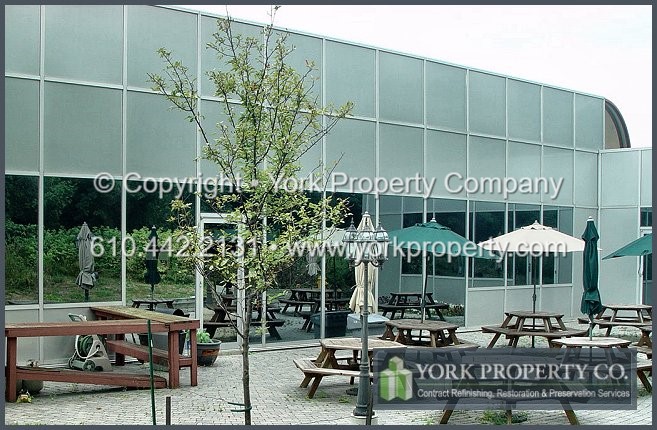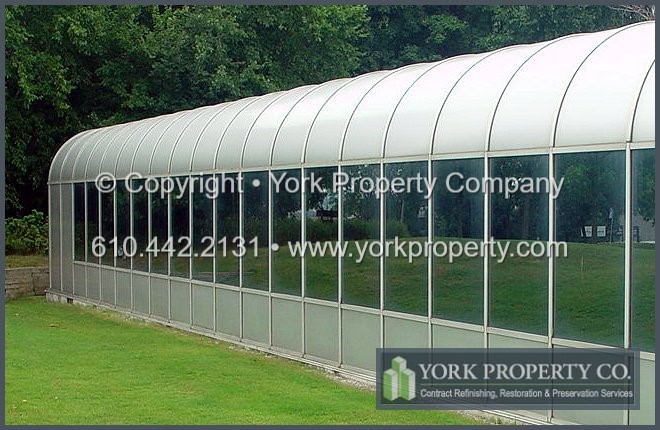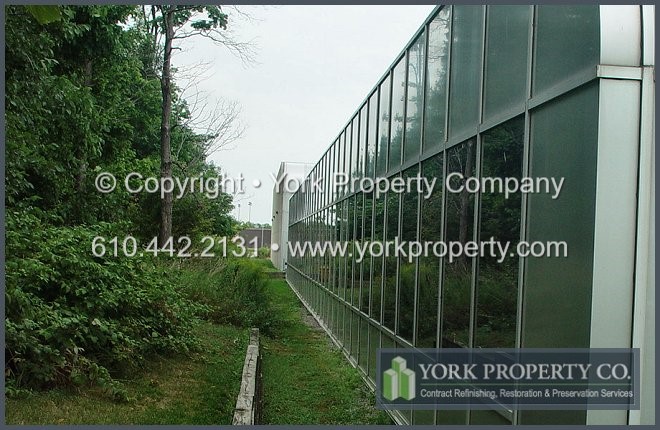 Anodized Aluminum Restoration Complete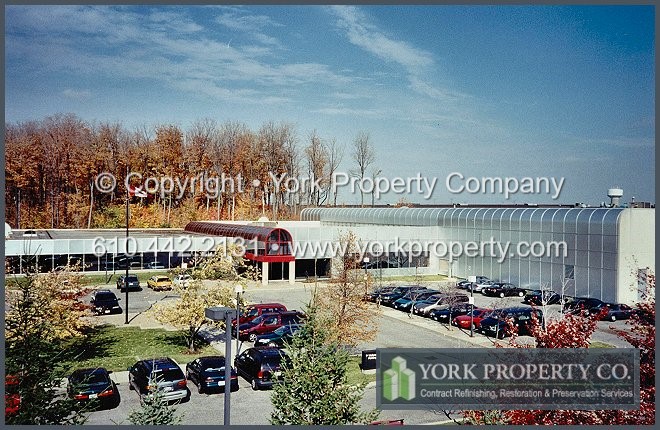 >>
View the York Property Company
Before & After Photo Gallery
here.
<<
York Property Company

provides high quality architectural metal cleaning, refinishing, restoration & maintenance. Our highly trained company technician's clean, repair, refinish & restore anodized aluminum, painted aluminum & stainless steel architectural metal surface finishes on-site.

With every restoration project we analyze the needs of our customers & develop a comprehensive maintenance program. This custom maintenance program ensures our clients architectural metal finishes remain looking their best for years to come.

Contact us today at

888.351.3682

and request an analysis of your buildings oxidized, pitted, mold and mildew stained, chalked and faded exterior anodized aluminum clad panels. We will be provide you an anodized aluminum refurbishing, anodized aluminum oxidation removal and anodized aluminum chemical stain removal recommendation.


Home Page I Our Expertise I Anodized Aluminum I Painted Aluminum I Stainless Steel
Proven Solutions I Client Case Studies I Client Testimonials I Contact York Property Co.


York Property Company Inc.
© 2009 I Precision Restoration at the Right Price.