Interior Stainless Steel Refinishing,
Maintenance, Cleaning and Restoration.
Refurbishing, reconditioning and repairing
oxidized, pitted / damaged stainless steel.






Our Expertise I Anodized Aluminum I Painted Aluminum I Stainless Steel I Proven Solutions I Client Testimonials

Case Studies: >> 1 - 10 >> 11 - 20 >> 21 - 30 >> 31 - 40 >> 41 - 50 >> 51 - 60 >> 61 - 70 >> 71 - 80
CASE STUDY 55 - Pitting and Rusting Stainless Steel Cleaning, Stainless Steel Repair and Stainless Steel Refinishing
Condition:
At the Borgata Casino in Atlantic City, NJ new stainless steel statues were installed in the pool / spa area. The constant temperature of 90 degrees, chlorine, chemicals and the high humidity of the corrosive environment had the stainless steel statues rusting and pitting in a few months. The rusting and pitted stainless steel metal finish was completely corroded, unacceptable and an eyesore. The stainless steel required grinding, stripping and resurfacing.


The Solution:
We were contracted to clean, repair and refinish the rust and corrosion damaged stainless steel finish. We renewed and refurbished the stainless steel metal finish using our exterior stainless steel reconditioning and refinishing system. The stainless steel refinishing removed all of the contaminants, rust, pitting, stains and oxidation. Our clear protective coating application will stop corrosion damage, rust and pitting from occurring on the surface of the stainless steel.
Contact us today toll free at
610.442.2131
for service nationwide.
>>
More
Stainless Steel Cleaning, Refinishing & Restoration Case Studies
here.
<<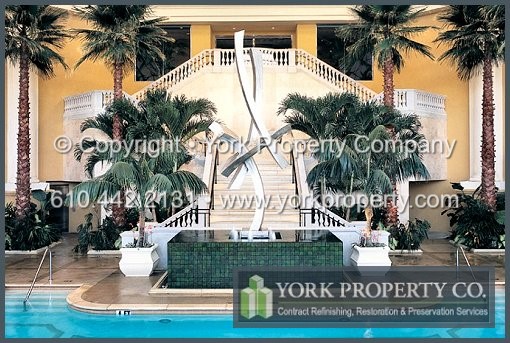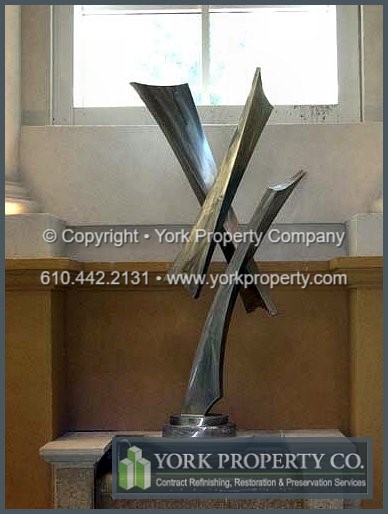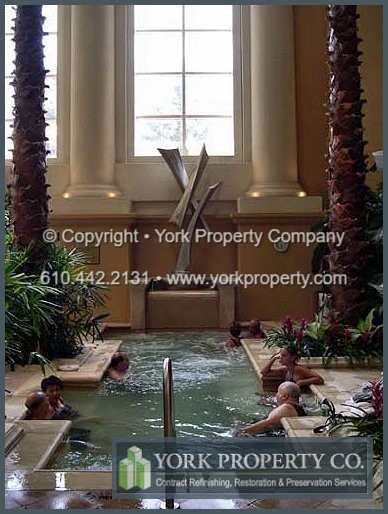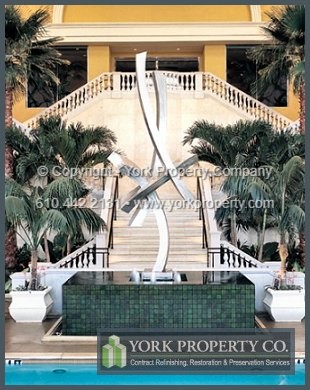 At

York Property Company

we specialize in protecting, maintaining, repairing, washing, cleaning and refinishing stainless steel building facade panels, stainless steel siding, stainless steel cladding and stainless steel window frames. We have stainless steel hard water spot removal and hard water stain refinishing programs. We get caustic calcium spots and acidic mineral deposit stains and efflorescence residue off of stainless steel. When dirty pollutants, caustic chlorine, acid rain residue and microscopic contaminants sit on the surface of stainless steel the stainless steel finish will etch, bleach, discolor, haze, oxidize, fade, deteriorate and rust over time. We remove the corrosive stainless steel surface contaminants that eat away at the unprotected stainless steel finish. When the acidic contaminants and damaging stains are removed from the stainless finish the stainless steel is then protected with our stainless steel clear protective coating returning the natural color, sheen and luster.

>>
View
Before & After Photos
here.
<<
When we clean, resurface, polish, refurbish, repair and restore scratched, salt air / salt water damaged, rusting and stained stainless steel surface finishes, we emphasize the distinction between what can be done and what needs to be done.

Do you have a question about removing rust from stainless steel or maintaining stainless steel finishes?


Contact us today at

610.442.2131

and request an analysis of your oxidized, pitting, rusting and deteriorated stainless steel metal finishes.

We will provide you a cost-saving stainless steel cleaning, stainless steel refinishing, stainless steel remedial maintenance and stainless steel restoration recommendation.
>> Back


Home Page I Our Expertise I Anodized Aluminum I Painted Aluminum I Stainless Steel
Proven Solutions I Client Case Studies I Client Testimonials I Contact York Property Co.


York Property Company Inc.
© 2009 I A Trusted Partner to Leading Corporations